L'attente est finalement terminée! Les Grudge Wars ont lieu ce week-end à Napierville Dragway. Nous pourrons voir si les coureurs impliqués dans les échanges sur les média sociaux seront en mesure de passer de la parole aux actes!

15,000$ en bourses seront distribués parmi les gagnants des 4 classes en compétition. Plusieurs pilotes de l'extérieur viendront se mesurer aux héros locaux. Un match race aura lieu entre Ian Hill avec sa Mustang turbo contre la sensation Facebook Pierre-Luc Mallet et sa Mustang Nitrous.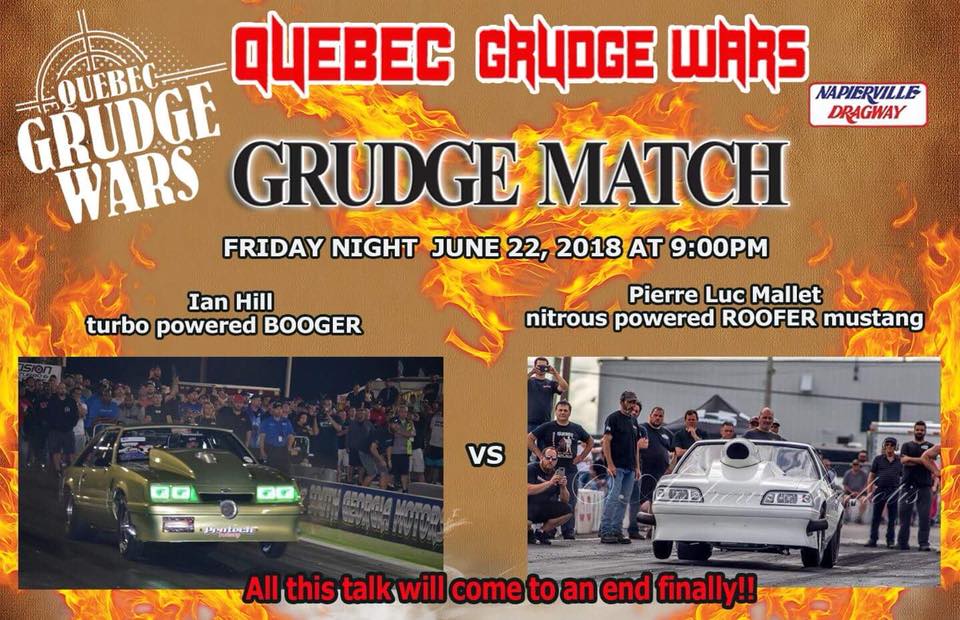 Voici l'horaire des courses :
Here is the weekend schedule and inscription for June 22-23 Quebec Grudge Wars:
Friday gates open at 9:00AM
Friday testing starts at 12:00 to 6:00PM Friday night Red Fish N/T drag racing and party starts at 9:00PM
Saturday gates open at 9:00AM
All heads up cars will get 2-test hits only!! 10AM and 11AM
12 noon drivers meeting and pairing
Street Outlaw cars begin 20mile cruise after pairing and return to lanes for a 15min cool down then show time!!
Rounds of elimination as follows:
1:00
2:30
4:00
5:00
6:00
Street Outlaw buy in $250 and includes free testing on Friday
Limited Outlaw buy in $350 and includes free testing on Friday
Extreme Outlaw buy in determined by racers. All money paid back plus $1000 on top in pot. Winner take all
Gate fees:
Friday $25
Saturday $30
Both days $50
Pour plus d'informations, communiquez avec Steve Steve Argiropoulos à w7strokers@gmail.com ou sur Facebook Quebec Grudge Wars