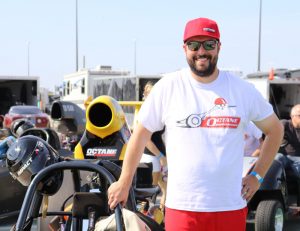 Jérôme Beaulieu amorcera au printemps prochain une 13e saison en piste. Le pilote d'accélération louperivois représentera le géant de la distribution de pièces automobile NAPA (NYSE: GPC) ainsi que le fabricant de produits chimiques et lubrifiants Valvoline (NYSE: VVV)  dans une entente sur plusieurs années.
Jerome Beaulieu originaire de Rivière-du-Loup au Bas-Saint-Laurent est bien connu dans le monde de l'accélération au Québec en tant qu'éditeur du site web DragRaceQuebec.com. En ligne depuis 18 ans, DRQ est la seule plateforme web francophone pour les amateurs de drag.
En plus de participer au championnat national Bracket Super Tour présenté aux pistes de Mirabel, Napierville et de Luskville, Beaulieu se rendra également, avec son partenaire de courses Kevin Poitras, aux États-Unis, en Ontario et au Nouveau-Brunswick au cours de la saison prochaine.
Beaulieu se dit très fier de représenter la marque NAPA, leader mondial dans la distribution de pièces automobile pour l'après-marché. On retrouve près de 6,000 magasins NAPA en Amérique du Nord, dont 600, au Canada. ''Nous travaillons également en collaboration avec les gens de Valvoline au quotidien pour la distribution de leurs produits dans plusieurs ateliers mécaniques de notre région, le partenariat était donc évident'' affirme Jérôme. Fondée en 1866, Valvoline Inc. est la 3e plus grande marque d'huile à moteur sur le marché mondial et commercialise également des lubrifiants et des produits chimiques pour l'automobile Valvoline et l'antigel Zerex ™.
Jerome Beaulieu est un pilote accompli avec plus de 20 victoires dans la catégorie Super Pro dont sa plus grosse victoire aux World Series of Bracket Racing présenté à Darlington en Caroline du Sud en 2017 et le titre de champion à la prestigieuse piste de Sanair en 2010. Il a également terminé à deux reprises en 2e position du championnat des pilotes à la Piste d'accélération de Pont-Rouge en plus de terminer dans le top 10 lors des 8 dernières saisons sur les différents circuits québécois.
Suivez l'équipe d'accélération NAPA / Valvoline / Octane Performance la saison prochaine sur les différentes pistes du Québec!

Jérôme Beaulieu to wear NAPA Auto Parts and Valvoline colors in 2019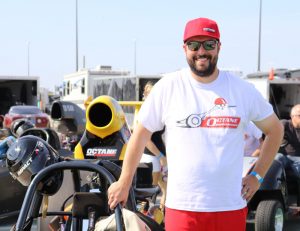 Jerome Beaulieu will begin his 13th season on the racetrack in a couple of month. The Eastern Quebec Drag Racer will carry two of the biggest brands in the Automotive industry today as he signed a multi-year agreement with the Auto parts distributor Giant NAPA  (NYSE: GPC) and the chemical and motor oil manufacturer Valvoline (NYSE: VVV).
Rivière-du-Loup, Quebec native Jerome Beaulieu is well known in the Eastern Canada Drag Racing world as the publisher of DragRaceQuebec.com. Online since 2001, DRQ is the only French-language web platform for drag racing fans.
Beaulieu plans on racing for the Bracket Super Tour National Championship in the Super Pro category with races held at Mirabel, Napierville and Luskville. In addition to that, he will also travel with his racing partner Kevin Poitras, to the United States, Ontario and New Brunswick during the upcoming season.
Beaulieu is very proud to represent the NAPA brand, a world leader in the automotive parts distribution for the aftermarket. There are nearly 6,000 NAPA stores in North America, including 600 in Canada. "We are also working with Valvoline on a daily basis as we distribute their products in several auto repair shops in our region, the partnership was obvious," says Jerome. Founded in 1866, Valvoline Inc. (NYSE: VVV) is the world's 3rd largest motor oil brand in the world who also manufacture automotive lubricants, chemicals and the Zerex ™ brand antifreeze.
Jerome Beaulieu is an accomplished driver with more than 20 wins in the Super Pro category including his biggest at the World Series of Bracket Racing in Darlington, South Carolina in 2017 and the Famous Sanair Dragway Track Championship Title in 2010. He also finished twice in the 2nd place of the drivers' championship at the Pont-Rouge Dragway and finished in the top 10 in the last 8 seasons on various Quebec Series.
Make sure follow the NAPA / Valvoline / Octane Performance Drag Racing Team next season!